Unit sizes and monthly fees:
We offer units capable of storing the contents of a four-bedroom house or just your holiday decorations - and everything in between.
Give us a call to determine which size unit suits your particular needs, or stop by to guage which unit size will work for you.
Conveniently located off Exit 6 and across from Plymouth Airport. Click here for map and directions (Google Maps).
We have been serving the self-storage needs of the Plymouth, Pembroke, Duxbury, Marshfield, Halifax, Plympton, Kingston, Carver, Middleboro, Bourne, areas of Boston's South Shore for over 30 years.
Unit Size:

Monthly Fee:

Recommended for:
5' x 5'

$45.00

Seasonal Clothing, Patio Furniture, Holiday Decorations, Documents
5' x 10'

$80.00

Furnishing of a 1 bedroom apartment
5' x 12.5'

$45.00

Easy access second floor unit. Office files, marketing displays, holiday decorations, clothing.
5' x 15'

$95.00

Furnishing of a one bedroom home
10' x 10'

$140.00

Furnishing of a 2 bedroom home
10' x 15'

$155.00

Furnishing of a 3 bedroom home
10' x 20'

$185.00

Furnishing of a large 3 bedroom home or 1 auto
10' x 30'

$270.00

Furnishing oa a 4 bedroom home
Pricing and availability as of 1/15/2021. Call 508-747-6137 or email for the most current pricing.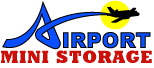 Airport Mini Storage
508-747-6137
10 Roberts Road,
Plymouth, MA 02360
info@airportministor.com
Hours of operation:
Monday - Saturday:
8 AM - 4 PM
Sunday: Closed